"It was probably the most exciting engagement I have ever done in my life, since I started performing."
Frank Sinatra about playing with Basie at the Sands in January 1966
Last December we celebrated the centennial of Frank Sinatra. I won't go into why he was important as a crucial part of that moment when American popular music equaled top musicianship, not only from the interpreters, but from the composers and songwriters; let's just say that if you love music you should have at least two or three of his albums at home.
Among his very prolific output, one of the most popular — not necessarily the "best", however you measure that — is Sinatra at the Sands, recorded in the last week of a month-long stay at the Copa Room in the Sands Hotel in Las Vegas, which ended on Thursday, February 1, 1966, fifty years ago, today.
"The Basie orchestra was a like juggernaut. When they came at you, after the downbeat and the orchestra started to play, you knew that you had to be part of that or you got lost […] We did things that were really jumping […] I tried to stay in the realm of what the orchestra was playing. I hang back just a little bit, in a sense."
Frank Sinatra about playing with Basie at the Sands
Top row: Quincy Jones, Frank Sinatra, Count Basie, Grover Mitchell, Marshal Royal, Bobby Plater.
Front row: Teddy Reig, Al Grey, Eddie 'Lockjaw' Davis, Freddie Green, Bill Hughes,
Sonny Payne, Eric Dixon, Charlie Fowlkes, Al Aarons, _____, Sonny Cohn, Harry 'Sweets' Edison, _____.
At the Sands
was a fulfilled wish of Sinatra's, the possibility of playing regularly with Basie. This wish went back a long time and, coming from someone with Sinatra's musical ear, it's a good reminder of Basie's importance as leader of his band, regardless of time and personnel, and it may have to do with his supernatural ability to establish the right tempo for each tune. As Sinatra himself said once,
"You cannot swing if a band doesn't settle into the proper tempo. I don't care how good you are, it just doesn't come out right."
To which it should be added what he said of Basie
"This is the greatest orchestra at any time in the history of the world."
Count Basie and Frank Sinatra at a rehearsal in California, Summer of 1965
Besides the hyperbole, there was a strong kinship between Sinatra and Basie. Basie himself and his men were also fond of Sinatra, and they've pointed out his thoroughness at preparing and rehearsing the repertoire, together with his light, one-take approach in the recording studio, as well as his readiness to foot the bill for those preparations and rehearsals. And then, there's the very audible connection with Eddie 'Lockjaw' Davis, whom Sinatra cracks up on "I've Got a Crush on You" and the alternative (more on that later) "Street of Dreams".
"... speaking of the kind of preparation Frank likes, he found out that the band had a couple of days open just before we were scheduled to go into the Sands with him, and he arranged to have he band fly out to Vegas from Chicago at his own personal expenses. That's Frank […] You'll never catch him coasting. I'm pretty sure he could have coasted in the Sands, and it still would have been great. But that's not Frank."
Basie on Sinatra (Good Morning Blues — The Autobiography of Count Basie)
Sinatra rehearsing with Basie in California, Summer of 1965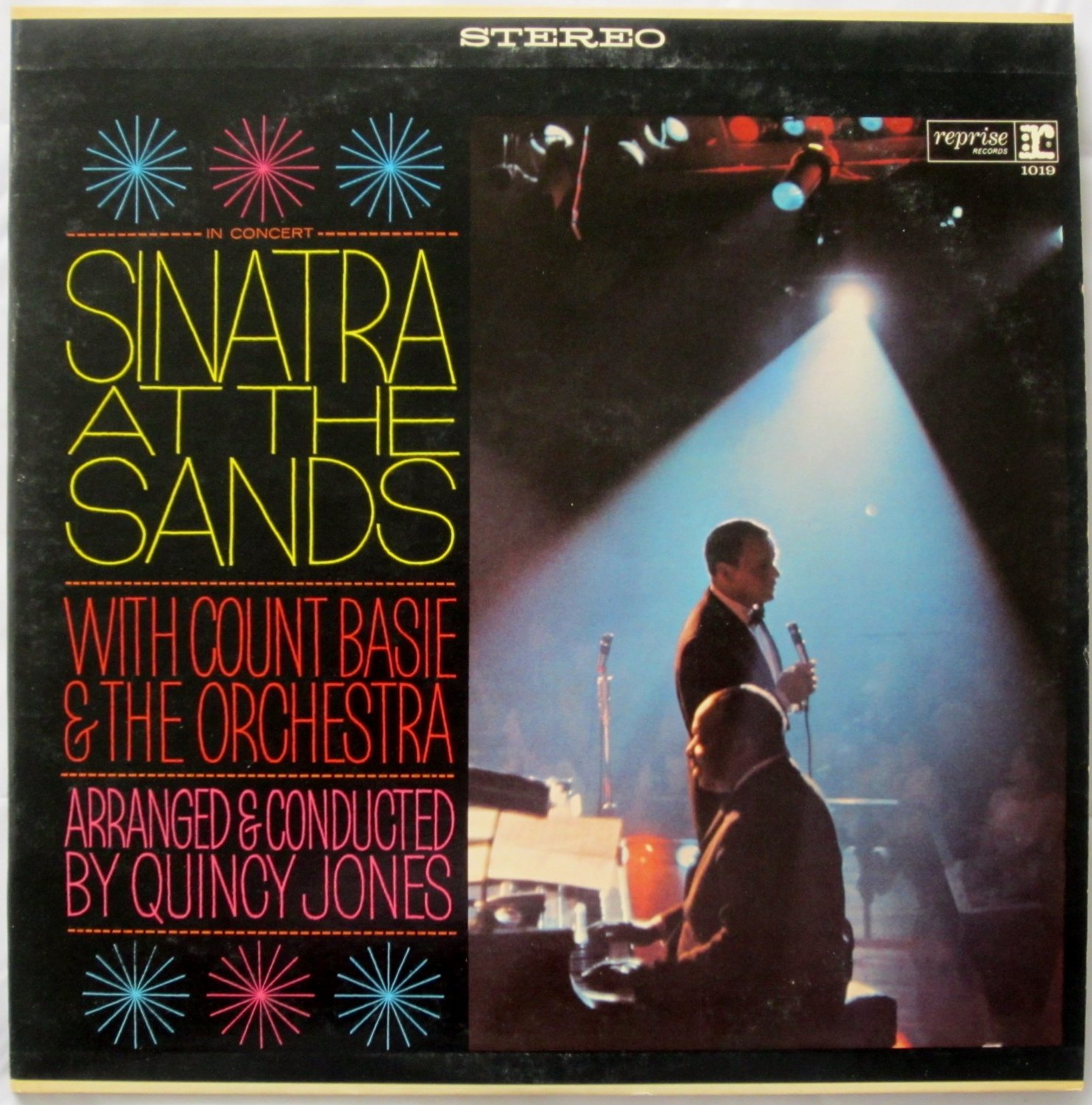 The album itself is a collection of Sinatra's staples, adapted for the Basie orchestra. Now, the album cover states "Arranged & Conducted by Quincy Jones", but these are really Nelson Riddle's, Gordon Jenkins's, and Billy May's arrangements slightly retouched to fit Basie's classic big band configuration — which was really the only sensible approach to this. It does work very well with the flag-weavers ("You Make Me Feel So Young" even gets the piano intro from Basie's hit "Everyday I Have the Blues"), and not so much with the melancholic and lush "It Was a Very Good Year" and "September of My Years", where in lieu of the mess of strings, Quincy Jones — according to James Kaplan's biography — bucket-muted the brass and doubled the lead trumpet with three flutes in unison.
The one radical departure from a version previously recorded by Sinatra was "Where or When", which arranger Billy Byers turned into a true vehicle for Basie, rather than Sinatra, with a call-and-response, mid-tempo, deep-pocketed arrangement. And far from it being a screamer, there are subtle details like the paraphrase of Dizzy Gillespie's "Bebop", and the minor third the double bass strikes — against an otherwise major chord — over Sinatra's "mem" on "... can't remember where or when".
Byers, unmentioned on the original LP, is one of this album's unsung heroes. A frequent collaborator and ghost writer for Quincy Jones, according to Will Friedwald's Sinatra — The Song is You!, he did most of the arrangements on At the Sands. Besides the "Where or When" premiered at the gig (and subsequently adopted by Sinatra as his favoured arrangement), he also did "The Shadow of Your Smile" and "Get Me to the Church on Time", neither of which would ever get a studio version. Regarding Byers's relationship with Jones, whose considerable achievements don't really need any undue credit, this is worth quoting, again from Friedwald's book:
"Quincy was an excellent arranger, but he doesn't write anymore. He found an easier and better way to go. Quincy is highly motivated and finds it tough to sit down long enough to write a whole chart. You have to be a recluse like Nelson [Riddle] was, to do orchestrations. Quincy would much rather be up front with the clients, doing what I call his 'floor show'.

"
More protagonists deserving a mention: Bill Miller, Sinatra's eternal pianist, replaces Basie on piano on a few tunes, and plays celeste too ("The Shadow of Your Smile"); his canonical piano arrangement of "One for My Baby" is the ultimate application of the blues to a standard song. Another long-time Sinatra associate who goes unchecked on the original album is also an old Basie sideman, trumpetist Harry Edison, brought over to do his improvised obbligati behind the singer, as in "Angel Eyes", which is a voice-piano-trumpet trio.
The other two people deserving a special mention on this album are, first, Freddie Green, whose guitar made Basie's sound for fifty years, giving it not only a second bass line of sorts, but also a rare poignancy. His guitar, albeit unamplified, is perfectly audible on this record (check the instrumental "All of Me", another great Byers arrangement), which brings about the last man deserving recognition here: sound engineer Lowell Frank, who did an incredible job with just four tracks.
And when all is said and done, there's Sinatra: Full of energy, caring about the music, and with a breath control which is, well, breathtaking — listen to him at the beginning of "Don't Worry 'Bout Me".
"We're gonna take this here building and move it three feet that way!"
Picture by John Dominis/Getty Images
One more time
As some of you will know, today we have more from where all that came from. In 2006, Reprise/WEA released R2 74075, a 4-CD/1-DVD set called
Sinatra: Vegas
, with five concerts. CD2 carries an alternative version of the original
At the Sands
, with almost the same tunes, in the same order, but recorded on different sets (on the "tea break" he says it's Saturday — January 29th). The versions on this one are looser, less polished ("Don't Worry 'Bout Me"), more informal, beginning from "Come Fly with Me" ("I'm tired!"), and "I've Got a Crush on You", which he turns into the typical Rat Pack circus, talking to the audience, the band, and even producer Sonny Burke ("we'll get it the next time, Sonny, don't worry — keep the tape going.").
In general his asides are rougher than on the originally published disk, and the "tea break", with a few identical bits, is lighter, more relevant to its time, and also shorter, which is welcome given Sinatra's limitations as a comedian — especially compared to Dean Martin (who, Sinatra notes, subbed for him on Mondays). There are also intriguing features, like the "sex!" he shouts on the instrumental break on "Fly Me to the Moon"; he also did it on the original "Come Fly with Me" — was that meant to discard a take? Also, the "Luck Be a Lady" in this box set is not the same as the phantom take included in the "Entertainer of the Century" version of the record (Reprise CD 9 46947-2 — I say phantom because it's been removed on the latest edition of the album).


"Welcome to Jilly's West, where the elite meet to eat... and if I rhyme that..."
Some of Sinatra's asides and comments in this "new Sands" are significant music-wise, like the explanation on his choice of "The Shadow of Your Smile" ("here's a song that was inspired by
a marvellous record of Tony Bennett's
"). Towards the end, during the shorter monologue, when he introduces and thanks Basie, Jones, and the band, he notes, as he gazes around the room, that "it looks like an arrangers' convention up here tonight", and acknowledges the attendance of Johnny Mandel (author of "The Shadow of Your Smile" — "one of the most exciting arrangers today"), and Don Costa, as well as "a very old buddy" of his, pianist Erroll Garner.
If anything, this alternate take of the Sands '66, which has the same pristine sound as the original, is proof of Basie's musicianship and professionalism. He was renowned for his skill with tempos, and the fact is that here, aided by Quincy Jones's conducting, they hardly change at all (the only notable difference is on the alternative "You Make Me Feel So Young", which is slower). Generally, the original selection is better than this alternative, even with its very few clams (like a trumpet missing a note on the last "… we are just like a couple of tots" on "You Make Me Feel So Young").
One more, once
But there's still more music from those tapes. The Basie band used to do a short, warm-up set, which was followed by a ten-minute break with comedian Pat Cooper, before Sinatra started singing. Combining different titles from different nights, in 1998 Reprise released
Live at the Sands (Before Frank)
, 9 45496-2, a collection of 14 tunes played while the audience waited for Sinatra. Again, the sound quality is spectacular for a live album, with Freddie Green and the rhythm section perfectly audible, and a great balance between sections. From a strictly musical standpoint, there are better Basie records, but the ensemble and some solos by Eddie 'Lockjaw' Davis and Al Grey (we get a second, almost identical, take of "Makin' Whoopee"). And then, even though this does sound like a juggernaut, there's the pocket, Basie's deep, comfortable pocket, as in Eric Dixon's "Blues for Ilene" (
sic
— a/k/a "Eileen", although, as per BMI, it is "Blues for Ilean"), a tune based on the famous trumpet-flute combination Frank Wess and Joe Newman exploited in
their recordings for Savoy
.
The end of an era?
I'm no expert on Sinatra, and have never paid enough attention to his post-Sands recordings. In a way, I've always had the idea that this record marked the end of an era. Somehow, it does make sense.
Sinatra at the Sands
was recorded at the end of a four-week stint at The Sands, Sinatra's home in Vegas, which had begun on January 9th, not quite a month after the singer's 50th birthday. In April, Esquire magazine would publish Gay Talese's celebrated
"Sinatra Has a Cold"
, a lengthy and fascinating article which forged his extra-musical image. On April 11, he recorded "Strangers in the Night", which would become his first big hit since the 1940s with a song he loathed (it would happen again with "My Way"), despite his public promise in the mid-fifties "... not to sing any songs that do not possess musical and lyrical merit."
In late April-early May, Sinatra and Basie did another, shorter, stint at The Sands, from where the band went straight into the studio to do their first album of Beatles' songs, presumably to ride the wave of the band's fourth tour of the US the following August. Before that, "Strangers in the Night" was released on July 2 to become a commercial hit, and on the 19th Sinatra married Mia Farrow.
All that was still a few months away.
Sinatra at the Sands
keeps the magic frozen in time for us. If you care to listen to it, do it at a loud volume. You'll enjoy the fireworks and, hopefully, the craftsmanship of times past.
***
LINKS
VIDEO
There is about an hour and a half of a concert by Dean Martin, Sammy Davis, Jr., and Frank Sinatra (the latter with Count Basie and Quincy Jones), at Kiel Opera House in St. Louis, MO, on June 20, 1965, a benefit for Dismas House. There is an official CD + DVD set, and it floats around on the internet.