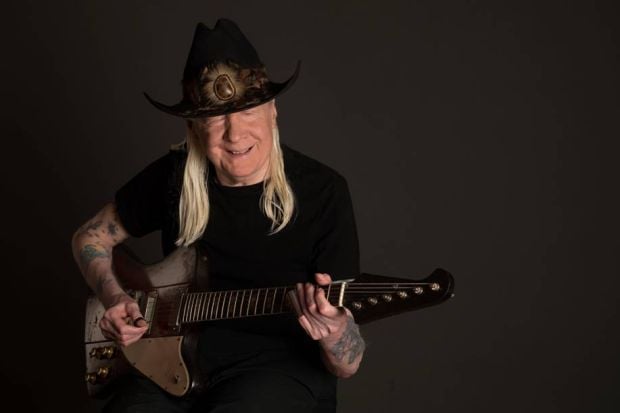 Johnny Winter
"I just hope I'm remembered as a good blues musician."
—Johnny Winter, just a month ago,
here
.
With his mane of white hair and willowy constitution, Johnny Winter was very easy to spot. He was also one of the true electric guitar heroes. He's passed away while on tour in Zurich, Switzerland, on July 16
according to his representative
. He was 70.
Given his longevity and visibility, there'll be obituaries everywhere summarizing his life, his ups and downs, and his music. For many, especially the followers of less amplified musics, he could be loud and strident. His mid-1980s LPs, victims to the mastering practices of the time, are a good instance of that
brittle, piercing sound
. Still exciting blues and rock'n'roll if you ask me. Like
so
.
Winter had a growling singing voice and was an overwhelming soloist, with a thumb-pick technique that went way back to the great acoustic guitarists of the 1920s and allowed him to play like a beast. However, what I find most impressive is the sideman work he did for Muddy Waters in the last stretch of his life.
Waters stayed with Chess Records until the label folded. Then, the young overcharged blues-rocker that was Johnny Winter convinced his own label, Blue Sky, to sign old Muddy Waters, took a back seat as producer and sideman, and build the ideal musical environment for Muddy Waters to thrive, be it with his then current band, or old compatriots like James Cotton and Big Walter Horton on harp.
You can hear the four albums they did together on
Spotify
.
Conventional criticism, as well as the stories of those involved, are sort of dismissive with the last album of the lot, King Bee (the only one that did not get a Grammy); the sessions were not happy ones, and the album had to be completed with outtakes from previous sessions. Even so, I do think that what Winter does on "Mean old Frisco" and "Forever Lonely" is a complete lesson on blues playing (with a clean tone and no distortion, for those concerned about that).
Rest in peace.
"Mean Old Frisco"
"Forever Lonely"