In the obituaries devoted to Paco de Lucía, the comments have focused on his adventures beyond Flamenco and its fusion with other musics, but in actual fact he never strayed too far from his roots and the vast majority of his recordings can still be sorted in the
palos
, the different forms of the genre. As he
himself
said "there are other musics I admire, but they don't make me feel like Flamenco does. It just breaks you."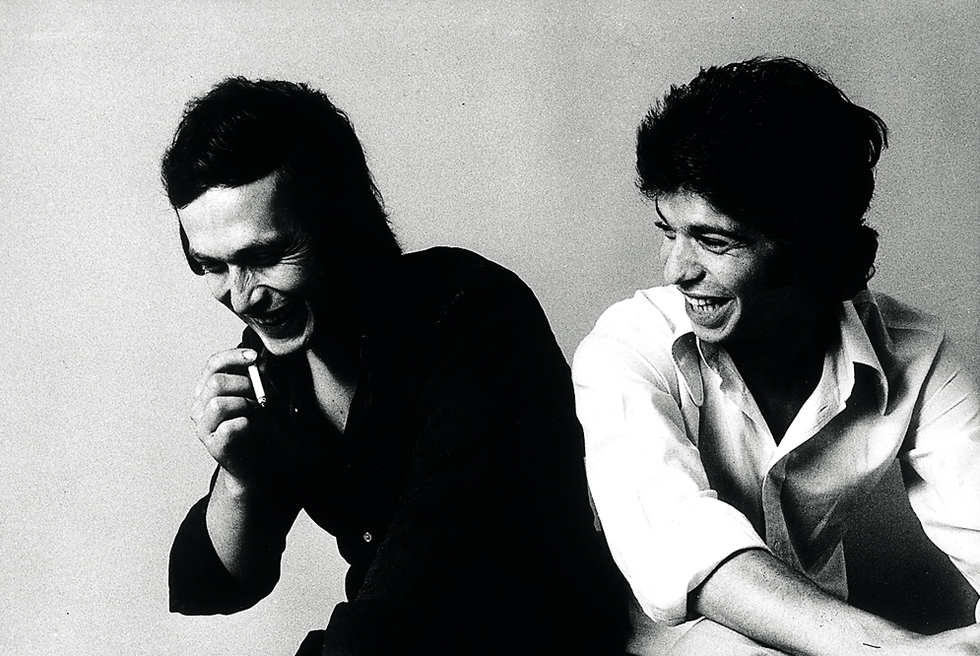 Paco de Lucía and Camarón de la Isla (picture by José Lamarca)
Among those palos, tangos — which, like Camarón and Paco, come from around Cádiz — must be the easiest to enjoy for anyone used to the 4/4 ever-present in pop, rock and a great deal of jazz. It not only shares the four-beat signature, but the accents also tend to fall on beats 2 and 4, where your typical hi-hat or snare drum wouldn't be so out of place.
I don't believe there's a single gateway for everybody to discover any given kind of music, and I don't think there's anything wrong with making an effort to appreciate musics we're not used to. Even so, given that you're very likely a jazz fan, with ears used to swinging 4/4 time, I thought it'd be a good idea to compile a brief selection of
tangos
by Paco de Lucía. You can listen to them on
YouTube
or
Spotify
.
Besides hits like "Sólo quiero caminar" ("I only want to walk") and "Como el agua" ("Like water"), sung by Pepe de Lucía and Camarón de la Isla respectively, I'd recommend a good listen to "La Cañada" and "Me regalé". On the first one (from Siroco, 1987), with its lively tempo, tension rises up to a spectacular passage (from 3:12) and then dissolves in the beautiful theme melody, which only appears at the end of the piece.


"Me regalé"
(from
Luzia
, 1998), on the other hand, uses something akin to a pedal to delay resolution (when they sing "cantan al compás, bailan al compás, y al compás...") and Paco's comping behind the voices sound closer to jazz than to flamenco.
In the video below there's a different version to the previous one, by the classic Sextet, with Paco and his brothers Ramón (guitar) and Pepe (vocals), plus Carles Benavent (bass), Rubem Dantas (
cajón
) and Jorge Pardo (flute), with dancer Joaquín Grilo joining them on second
cajón
. Perhaps because this was part of a feature film (
Flamenco
by Carlos Saura, 1995), this is actually a composite of the introduction from "Sólo quiero caminar", the theme from "La Cañada" and, finally, the melody and lyrics from "Me regalé".



* * *
PD:
Since I published the
previous entry
, I have hardly listened to anything but Paco de Lucía's music, a pleasure I had sort of left aside for too long. This has made me appreciate his value as a composer. Perhaps because he's an incredible guitarist, I think that his skill as a creator of tunes has been taken too lightly in the appreciation of his legacy (the album
10 de Paco
would be a brilliant exception). There's quite a number of catchy tunes he's left behind, and he generally managed to extract elements from other musics and integrate them seamlessly in his Flamenco universe.
Besides all this, truth be told, his passing has hit harder than expected. It may be because of his age, but there is something more. A frequent comment these days among fans in Spain has been about the feeling of his having always been there, his being an indispensable part of our musical landscape. In my case this is literally true: being just three when "Entre dos aguas" came out, he was the first musician I was ever aware of, the first virtuoso that amazed me from the other side of the TV screen, and what he played is the first syncopated music I ever heard. There has been an enormous amount of music in other styles and from other continents, time went on, and even if in gaps of several years, I always returned to his music, be it for the new released or his vast catalogue. Like many, I have also butchered his music on my own guitar.
Adiós, maestro.
Life goes on.