That time of the year is almost upon us, and in the spirit of public service that guides the staff of this blog, we are going to comment on that piece of hardware that is so very dear to jazz fans: the boxed set.
A few days ago
Elvis Costello
made the news in a salient way (there goes another David Miles album...) In his
blog
, he criticized very openly the record label releasing a boxed set of his for an asking price he deemed a "misprint or a satire... an elaborate hoax". This boxed set comprises a CD, a DVD, and a 10" vinyl disc, and the truth is that we haven't been able to find it listed for under $200.
Mr. MacManus recommended instead to buy a nice
Louis Armstrong
set called
Ambassador of Jazz
. As it happens, this set was already OOP (a most-dreaded acronym for "out of print") in the US, and it was only available from the good people of the
Louis Armstrong Museum in Queens
, which has made my worthy constituent
Ricky Riccardi
and his colleagues very happy. And deservedly so. Funny how publicity works: as Ricky explains in his
blog
, they ran out of sets on Friday 9th.
It should be pointed out that both sets, Costello's and Armstrong's, have been released under Universal's umbrella. The Costello comes from imprint
Hip-O Select
, a label that has done some good deeds so far, and
in jazz too
. Their sets are lavishly presented, and the one we were really surprised by and
looked forward
too was their
Stan Getz Quintets: Clef & Norgran Studio Albums
.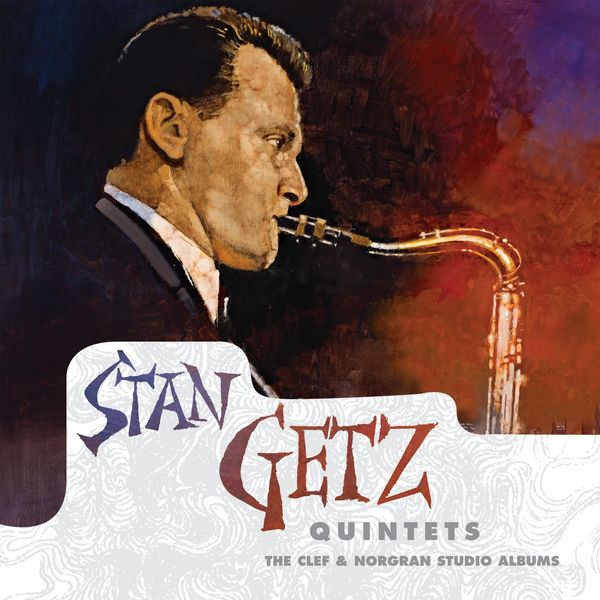 The reason is simple: this set is first ever edition of the complete recordings of
Stan Getz
's first quintet with Bob Brookmeyer, and really the first one with a decent sound quality. The music in it has some great early-fifties Getz, plenty of swing, nice surprises like a quartet with Max Roach on drums and Jimmy Rowles on piano and, especially, Brookmeyer's presence as a soloist (the beginning of his solo on
"Varsity Drag"
), composer (
"Rustic Hop"
), and general musical mind. The only disappointment, especially at the regular prices these sets go for, was a small mistake: the version of "Flamingo" was the one from
At the Shrine
the
live
album by the SG-BB Quintet and, therefore, not the
studio take
. Hip-O's solution should have been to offer a replacement CD (like Mosaic does in the rare occasions when it's necessary), but they have not gone beyond supplying their customers with an mp3 of said track.
Regarding prices, in our experience, a combination of patience and regular browsing usually yields fruits. But prices being what they are, any solutions for the urge to make a gift — to oneself, to others — of a nice jazz boxed-set are welcome. No need to look further than France for this.
Universal France has just released
a series of five boxes
devoted to the master takes of recordings by
Louis Armstrong, Sidney Bechet, Ella Fitzgerald, Billie Holiday, and Charlie Parker
. These boxes include between 13 and 15 CDs, a 70-page booklet with liner notes in French and English, complete discography, and some nice photos. As for their price, look around for yourself and do the math.
So far we have only tried the
Ella
and the
Bechet
. The former is interesting because it reunites all her masters prior to her signing with Verve, first with big band leader Chick Webb, then fronting that band, as a singer with assorted musicians, her duets with pianist Ellis Larkins, and other riches. The Bechet is a very complete collection of his
American
masters (he recorded quite a bit in France, including some of his most popular hits, like "Petite Fleur"), plus a selection of his earliest work (1923-1932), and some live recordings (1939-1940 and 1953).
The other sets are equally or even more interesting. The
Louis Armstrong
covers the 1925-1945 period, that is, from his Hot Fives and Sevens to his very popular work fronting a big band, plus a selection of his earliest work with King Oliver and others. The
Charlie Parker
has every master from his first studio recordings with the Jay McShann orchestra up to his work for Norman Granz plus two discs filled with assorted broadcasts and other live recordings. Two CDs out of the staggering volume of live Bird recordings available may not seem much, but who's complaining?
Like the Parker set, the
Billie Holiday
also covers the whole of her recording career, from 1933 to 1959. Her complete output has already been out on CD in different boxes, but having all her masters together is indeed appealing. At the end of the day, while alternate takes can be fascinating, the masters are the versions that were known at the time and which influenced listeners and musicians. It's a pity in this case that one session — four tracks — seems to be missing, the one from
January 9, 1957
. Given the volume of music included and asking price, we'd call this a minor flaw.
This series can be seen as part of a long tradition of jazz reissues in France (EPM, Média7, Classics, Frémeaux...). Under the aegis of Universal, most of the team working in this Complete Masters series is the same behind the
Saga Jazz
label, which means a good presentation, both graphic and sonic. When it comes to historical recordings, given their age and wide availability thanks to European public domain law, sound quality is a major issue. We contacted the team, and they told us that they have used whatever sources were available to them under European copyright law, whatever sounded best, which have been remastered in order to produce the most homogeneous content. This is definitely a series worth keeping an eye on.
Being a music fan today sometimes feels like standing on a beach, watching the industry trying to weather the storm and waiting for the remains of any wrecks to get ashore. If anything good comes out of this, is the occasional resurfacing of hard-to-find music. Second largest major Sony is offering good deals in the boxed format too. They have produced quite an array of sets (Stan Getz, Dexter Gordon, Wayne Shorter, Mahavishnu, Paul Desmond, Miles Davis, Dave Brubeck, Weather Report, Billie Holiday and others you can see
here
), but the jewel of the crown may well be the one devoted to trumpet player
Woody Shaw
, for the quality of the music, its patchy availability in recent times, and the extra disk of unissued music from the
Stepping Stone - Live at Village Vanguard
sessions.
Finally, like it or not,
Brad Mehldau
's
The Art of the Trio
series was one of the most relevant phenomenons in jazz in the late 1990s.
Nonesuch
has reunited the series in a box, adding a bonus CD with extra materials, and, in a master stroke from whoever thought of it, liner notes by one of the most accomplished of jazz writers, pianist
Ethan Iverson
, an appealing bait for all those who already have all the music.
If you're thinking of using any of the above for gifts, remember that good music is forever.
Have a good end of year, whatever you celebrate, and good luck.
PS: If you are of the avant-gardist persuasion, or are in the least interested in this kind of music, a good look to the sale at

Leo Records

is mandatory.